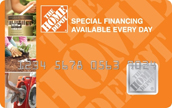 Hi y'all! Just posting a quick note for today. Guess I missed a week in my financial updates. Hmmmm….. (making mental note). Sorry, I just have been extremely busy with work that I haven't had time to make a solid post, read or reply to my fellow bloggers. I hope things calm down soon cuz it sure is giving me a headache!
BTW, Florida was great! Beautiful weather, great people and food. The conference turned out great and I met a lot of great people!
Okay, Now to my topic:
If you have a Home Depot credit card, WATCH OUT! They are jacking their already high 22.99% APR to 29.99%!
And to think I almost threw out that piece of pertinent information. You know… junk mail. As it was making its way to the trash pile I thought, "not so quick" cuz the whole Chase/BofA issue(s) popped up in my mind. Smart move!
Moral of the Lesson: Pay your card In Full every month or carry a zero balance (like I do).
I have to say, it is really nice having these CCs PIFd when I get notices like this. What a blessing.
Happy Sunday, y'all!
Click Here to Subscribe to Money Funk by Email or by RSS feed